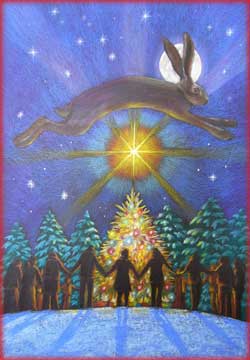 I'm not really exactly sure when I came to grips with that part me that others term as "spirit" but I can tell in a heartbeat if someone else is grappling with the idea of self-versus-Self. As a child I heard the magic of butterfly wings and raindrops, I remember the whispered wisdom of things that grow and go versus those things that have been here forever. There's a sigh in the summer breezes that speaks of yawning tree branches and the deep coolness of spring-fed waters. Likewise there is a hollow echo to the chill winds of winter that aches with the absence of activity as all life slumbers.
This is not a consciousness that demands identity and labeling, this is a sense of self that requires a simple acceptance to freely express as whole and holy. There are no human words when the inner self needs to fly on wings that are not expressed as feather and tendon. There likewise is no language to paint with that captures a spirit in mid-dance. When that sense of what is eternal by sheer chance happens upon another whose dance is likewise free and uninhibited, "Love" is too small a term to embrace the sudden explosion.
Sometimes, if we are lucky, we come across the one person that makes the Whole of It real. I was lucky enough to have a person like this in my life; I call her "My Spiritual Mother." Mama Donna came into my life just after I'd cleared the fog of the first three years of sobriety. She listened as I puzzled out where my Heart was, what my Spirit needed, and at the same time was unafraid to show where she was wandering so that others could learn along the Way, as she was doing. She showed me by example that Life was not about sitting on the sidelines, but jumping in on the Dance. Just to show me, she did; arms flung wide, one foot above her graying hairline and her heart open to all the Universe. I will ever remember her just as the photo captured, that "Woo-Hoo!" moment.
I remember when, in a moment caught off guard, she asked me what my 'special stone" was and without hesitation, the wiser part of me jumped in front of my mouth and said, "Lapis lazuli, because it captures the stars." She very steadily looked into my eyes and replied, "When you find that piece that is yours, send it to me and I will make something for you." In a moment of serendipity some time later, there was a vendor at a city-wide event that had a beautiful disc of lapis in her stall and she sold it to me, along with some other pieces at a rock bottom price. Of course, I'd totally forgotten about Mama Donna's advice until she lovingly reminded me again.
The unexpected thing about serendipity is that it never fails to bring home a lesson that will etch itself upon your heart for all time. I sent Mama Donna the lapis, and a month or so later, this beautiful pendant came to me in the mail, gold wire wrapped. What I didn't notice (silly child that I am) was that there was a rune woven into the wrap – 'sowelu' – the Sun, wholeness and completeness. A sum of all that was, is, and shall be. It is a sobering reminder to me, now and again, that everything I need is at my hands – not everything that I want.
I'm still searching to 'find my way' and I suspect that this will be the status quo for quite a while until I can deal with the majority of the ghosts and terrors that haunt my waking and sleeping hours. Even turning your deepest anger into a fiction sometimes fails to slay the demons of memory; I cannot fathom the inhumanity visited upon one another our race perpetrates.
Within all of the lessons handed down to me this year wrapped inside the cloak of therapy is the stark reality that we are all more than the sum of what we do. What we do on a day to day basis is not the totality of the definition of our individual being, and when we allow such, we are in danger of losing that precious essence of self.
Here we are again, just past the edge of the cliff known as the Holiday Season. It's enough to make me want to scream "Grow your own wings! FLY! Don't follow the path of the lemming in front of you!" We tend to be herd animals, although. Be that as it may, I love and support those of us that have found a way NOT to go along with the herd – eschew the typical Black Friday/Cyber Monday madness, toss the idea of the usual gathering of relatives into the blood sport of dysfunctional verbosity, and find a new way to celebrate what they consider special and holy no matter what time of the year. Some of us even open our hearts and doors to others related only by virtue of species, because after all is said and done, we are all related.
In the Spirit of All Things, I challenge you to find another way this year. We each carry a bit of 'sowelu' within ourselves; we each have all that we need, not all that we want – we simply have to learn to ask and having asked, gratefully accept. The Light that we hold holy at this time of year is with us all year long. We simply need to learn to remember this, and carry a bit of it forward each day to share with each other. The road is not so long nor quite as lonely when we share the steps with one another.
Blessed Yule, y'all.