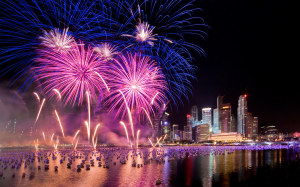 Tomorrow is my 57th birthday. I still have no wish to "grow up" because to me, the next thing would be "growing old" and I refuse that judgment upon my person. I still believe in love, I still believe in the magic of those Unseen to affect beauty all around me, and I still believe (somewhat) in the goodness of the human race. I believe in romance; the kind that leaves you teary-eyed and breathless after a tender kiss. I believe in long-lasting relationships because the nature of love is compromise, care, comfort and consideration for one another. Oh, to be sure we all mix it up now and again to keep things fresh, funny and delightful to our beloveds.
I believe in reincarnation because I am very much a work-in-progress. It would be absurd, with all the flaws inherent in my being, to expect me to conquer them all in a single mortal lifetime. Especially if your lifetime has been foreshortened in a flash, with an unexpected crash. I believe in Wonder; because if I have forgotten what it looks like, all I have to do is find a four-year old to remind me.
When all the Ugly of this world descends upon me, all I really have to do is reach out to another. This has been the hardest lesson of all, because for years, I only interacted with others thru a narrow window of a bubble – refusing more than the scant contact of a phone call, a brief meeting in a small cubicle, the direct dryness of an e-mailed message. I wrote my stories at home, safely tucked away from the rest of the world in a 9 X 6 office, 30 miles from the nearest hub of human commerce. I liked it that way because those that deliberately looked for folks like me to harass, annoy, tease, belittle or outright bully could not reach me here; and I could illumine their souls with my limited understanding in the vain attempt to discover why they felt so compelled.
When you least expect it, Serendipity waves her magic wand and you find yourself bed-rest bound with a scary prognosis and an interminable wait for a follow-up CT scan and MRI. However, because of the Common Thread of Mercy, you also end up entertained by a lovely series of urban fantasy books. This was to be only the outside of the nesting dolls of discovery, but so little did I know.
Then, I discovered what a wonder a blog could be, and my eyes were sure to be as big as that four-year-old upon seeing fireworks from the top of a hay bale in a moonlit sky. Oh, the Universe wasn't through with me, because then I had the joy of a writer's retreat. Not before a near-complete meltdown, however. This little country mouse was secretly terrified of leaving her safe nest under the huge ash tree in the middle of the prairie. It took a lot of hand-holding, some serious acceptance of limitations and a warning of a bruised ego should she turn around and run back to the safety of the sun-dappled shadows, but Country Mouse not only navigated the airport and the rental car kiosk, but Chicago traffic and her own limited knowledge of getting maps to work on a smartphone.
There were some disappointments along the way as well; Google Maps is never accurate, hindsight is always better than gut-level panic, and re-think what you really need to pack before you have to schlepp it all over Creation. Learning your new limits or finding a new normal have been watch phrases for me; and in the spirit of being honest, not exactly welcome. The trade-off, because we do live in a Universe of Balance, is that I made some friends that have felt like they will and have always been a part of my heart.
The next stage of my life is a complete unknown – it's like standing behind the curtain at an improv. You have no clue what you're going to do, but you have a gut level feeling that you can wing it if you can just get over the fear factor. Every muscle in your body is both relaxed and tensed at the same time, your mind is racing and your breathing skips a bit along with your heart. However, there is that still, small voice telling you that "You. Got. This. You've had it your whole life. Now. Is. The. Time."
To be sure, there is a wonderful happy part of me that is simply aching to share some good news. (I'm going to be published!) Of course, there is the part of me that simply wants the mess out of the house so she can sit down and finish writing some of the stories that fizzled to a whisper because of the distractions of crap she simply cannot abide! (Obsessive/compulsive, much?)
Here I sit, at the end. A sudden realization tearing my eyes; I am the only one with this voice, this perspective. Should I be too shy to sound out, the whispers of what I see will dim and face into the emptiness of Chaos, with no one to note that I even sat here at all. The fear of silence being more than the shyness of sharing a beloved's touch on my neck, shoulders and the tentative kiss of "good morning" on a still sleeping face.
Soundtracks of a hundred movies sit in my queue, background music to a chattering brain flexing verbiage and feathered synonyms to paint the mind pictures. The window frames the sere grass overgrown for lack of a sufficiently powered mower to tackle the front acre. Naked limbs of crepe myrtle, mimosa, ash and tallow give depth to the framing, and within a golden pool of illumination, the fingers move and then still; here creation moves one phrase at a time.
Tomorrow, my heart will still waltz to an unheard tune, my eyes still looking for the miraculous, and my hands will still reach to learn that next, more difficult crochet pattern. Getting the brain to engage will always be the new challenge that the new normal has become, but I refuse to 'grow up.' No one ever said it that it was mandatory anyway; I prefer to grow better.
Mays the Bells of the New Year bless you and yours with their soul stirring chimes.
Gentle Hugs,
Rhae