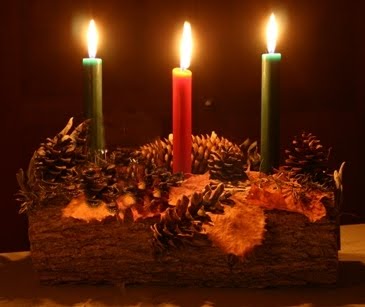 Time and again I've posted on Facebook and elsewhere NOT to wish me a "Merry Christmas" please, I'm not Christian. I don't say it to sound mean or callous or Goddess-forbid engage in some feeble minded attempt to make war on a holiday held sacred by others. I'm simply asking that a level of civility be observed and to please extend to non-Christians the same courtesy extended to Jews, Muslims, and other non-Abrahamic individuals. In return, I've been asked "What DO you observe?"
I am only timidly going to stick my toe in the Pagan waters here, because I can only speak for our Druidic tradition and some of the Wiccan and Asatruar traditions that we share hearthkin with. Ah, yes…I can see that some definitions are going to be in order as well.
Shall we jump in? Primarily there are as many Pagan traditions as there are stars in the sky – and probably just as many variations in Druidry, Asatru and Wicca, so this is not gospel. It is a generality and should you have a burning desire to know and question that you just have to have answered, feel free to ask. Likewise, if I don't have the answer, I can usually point you in a solid direction for where to discover the answer. Witchvox.com is a likely resource, but not the final answer by any means.
Let us start with "community" – this is not as cohesive (although a crap-ton of us wish it were) or as inclusive as the word suggests. "Loose confederation" is closer, more holes that your granny's doily is a better description. This mutually-agreed upon truce betwixt and between traditions and spiritual paths tends to generate a consensus gathering for most, if not all of the 8 "Holy Days" that revolve around an agricultural/astronomical calendar. Neither are the dates 'set in stone' per se. Because of a large amount of religious bigotry still running unleashed and rampant in a good part of America, most Pagani tend to utilize "the weekend closest to" the actual date/day/time for observance.
Let us also add an additional warning here. Because of the aforementioned problems with the distinct lack of general acceptance, if you've made an acquaintance of an individual that follows The Old Ways, please keep that information to yourself, unless that individual has acknowledged to you that they are "Out Of The Broom Closet" with regards to their spirituality. It's a big no-no to expose someone who could very easily lose their job, their home, their children, their school funding or even their lives. No, I'm not going over the top here. It's happened.
OK, definitions. "Heartkinship" – this is an established relationship between two separate groups of pagani; sometimes, two covens or circles, sometimes Druid and Wicca, sometimes Asatru and Druid. There is an agreed upon joint relationship for observance, prayer, feasting, even extending to informal fosterage of children during the summer months or sometimes during the school year. Yes, my family and I fostered our girls with an Asatruar hearth and likewise accepted their children into our household. It works very well when there are shared values and morals, with shared goals and expectations of the children involved. The benefits are amazing all around; but the trust and ability to compromise required of each side promotes a level of maturity that is admirable. Once upon a time, when there were extended families that knew each other just as well, informal fosterage was simply a given status. Modern America has lost something it could do well to rethink and regain.
'Ghosti' or Guestright – this is the set of acceptable behaviors between guest and host that stretches back into time. In a nutshell, it describes what is expected of a good guest; no breaking of the good china, lamps or host's bones, no wrecking of the house, cars or property, no allowing the remainder of the household to come to harm through action or inaction on your part. In exchange, your host is expected to grant you a meal free from poison, vermin or inordinate gossip, a place to sleep should you require it, and a bath should you need one. Additionally, protection from anyone who would harm you while within the boundaries of their property is also an expectation. It sounds so simple, and yet too many times the members of the pagan community have seen both guests and hosts wreck the parameters of appropriate behavior on the order of a sleazy talk show.
As much as I hate to illumine the single underlying cause of the majority of these rampages, it must be outlined that alcohol can breed just as much antipathy as cheer. Setting firm expectations/boundaries with guests is a welcome foundation that can insure many happy holidays to come – be they Pagan or not. Oh yes. One more item. Set firm boundaries with regard to sex and sexual behavior. If you're going to have a grown-up party, act grown-up and discuss consensus and protection.
Ah, so you've been invited to "circle" or "ritual" – Chances are the person that invited you will inform you of their particular traditions with regards to dress, time to show up, etc. Want to impress the person who invited you or officiates at the ritual? Bring a bottle of mead, or good wine, or something to eat. Clueless as to what would be appropriate? Do a bit of research on the ritual being observed. Many of the Full Moon/Dark Moon observations are closed – which means "no one outside the immediate group unless permission has been given." So, if you are invited to a Holy Day observation, (one of the Big Eight) you're going to be there with others who are likewise clueless or are attending their first event. Accommodations should have probably been made for your presence. Relax, keep an open mind and enjoy. Participation in the event is always voluntary, save for a preliminary 'smudging' or cleansing. Never be afraid to ask your host/hostess about appropriate attire, what to do once inside circle, if you can 'sit this one out' and where, etc.
What is this "Yule" thing anyway? For our hearth, Yule, is an ancient Germano-Celtic tradition that celebrates the return of the Light and is observed from sunset the day before the Winter Solstice to sunset the day of the Solstice. An hourly vigil is kept at the Hearthfire by the Yule Log to insure blessings to one and all that come to observe, offer prayers and seek blessings. There are some that keep an all-night vigil when seeking wisdom of importance. While there is gift-sharing, it is minimal and observes a protocol of "one gift to Share Your Light" (i.e. an artist receives expensive brushes, a chef receives a prized carving knife, etc.) There is often story-telling (the cycle stories of Munster, the Children of Lir, etc.) and there is often a recounting of the year's events similar to Samhain.
At midnight, every light is turned off, the fire is ritually tamped out, and a new fire re-kindled upon the ashes of the old, with the exception of the Yule Log. Additionally, the Yule Log is never allowed to burn away completely; one piece of the log is saved to use to kindle the next year's Yule Log, else the family line dissipate never to be spoken of or remembered again. Usually, only "hearthkin" (kindred accepted by rite) are allowed to share Yule as they are familiar with and answer to the traditions of "ghosti" or guestright. (This is a complicated set of traditions that have to do with hospitality – how to behave as a guest and/or host.) We usually roast a ham, a brisket and a salmon to offer on the table for the main feast. There's baked apples, sometimes a roast goose, it all depends on a.) what we can afford and b.) what we can get at the butcher's. It's very different from Christmas, but very family oriented.
By far, this isn't an in-depth description…because there is so much more. The names of all whom I've sent Yule cards to will be recited at the Hearthfire in order that the Exalted Ones extend a Blessing to them. There are bayberry candles that adorn the altar (for prosperity – "A bayberry candle burned down to the socket brings health to the family and gold to the pocket.") Mistletoe is carefully hung over doors, holly and pine over windows (to honor the Ancestors & the Shining (Fae) Ones) and often the kitchen and pantry is ritually cleansed with salt & mint to keep pests away, the floor cleansed with herbal tinctures and homemade soap….It's a JOB…but the laughter, the sense of community and the camaraderie makes it so worth the effort!
Yule is probably the one Holy Day wherein we open the hearth and door to any who care to share because we feel it's only right to Share in the Light. To us, sharing the sacred with others connects us to them in a way that no other form of communion can. When you share a meal, a ritual observance, stories and song, you being to understand another person's perspective, and their lives begin to have worth and value to you. A common understanding goes a long way towards acceptance and inclusivity.
Blessed Yule, Y'all…..from our Hearth to Yours.