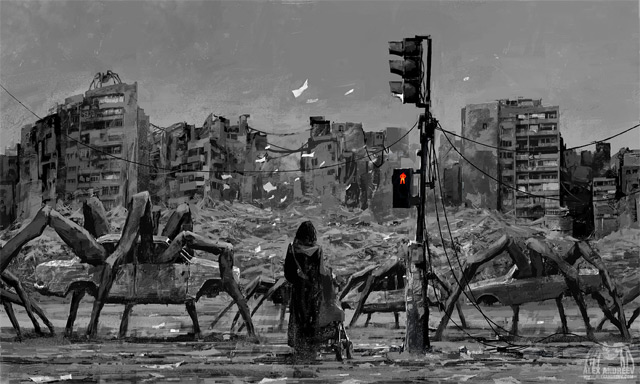 Art by Alex Andreev
In keeping with a personal vow to total and complete honesty, I was destined to be a nerdy girl. I remember vividly watching the Friendship 7 and Mercury space flights with awe, wonder and envy. The first book that I bought was the unabridged version of H.G. Wells "War of the Worlds," which would be followed by the purchase of Homer's "Iliad" and "The Odyssey." By the time I'd digested ancient space and space invaders, 'Star Trek' premiered and I would damn near trample anyone that got into my way while sprinting home on Tuesday afternoons to catch that week's episode. In my time, the term was junior high school; by the time my shadow crossed the threshold, Bradbury, Asimov, Heinlein, and Cherryh were to become my mythic pantheon of worship. I learned The Three Laws of Robotics simultaneously with the obtuse directives of Boolean algebra and vagaries of photosynthesis. It never occurred to me that I couldn't do what John Glenn, Neil Armstrong and others would do; the destruction of that dream took years of sexist oppression, rape and substance abuse to kill. Oh, was that a bit too raw for you?
This is no less shocking to me than the sight of law enforcement officers beating and killing pedestrians or other citizens of color and then attempting to use the 'Unwritten Code of the Blue Brotherhood" to shield their perversions and crimes. The great minds of Literature Past and Present have ever warned us of the dangers of complacency and ennui. The Voices of the Great Enlightenment spoke deep and vast cautions against allowing our baser human natures to rule over our better selves. The Bells that Toll have been doing so for a very long time without a single voice to query "Why?" Or worse, "For Whom?'
There are no less than 40 years of a perverse directive to destroy an educational system and a safety net of worker's rights that have a once-powerful nation on its own edge of internal destruction. We lack the compassion to enfold our veterans in a blanket of services, our populace in the gentle guiding hands of mental health professionals, and the once solid separation between Church and State is nothing more than a bloodied smear on a the artifact of a printed newspaper.
Flags that symbolized our nation's historic shame of human ownership still fly where they should have been taken down and archived with the memories of that intolerance and hatred. There is no genetic basis for race, just as there is no marker for sexuality. We are all shades of the spectrum, we come in all flavors of joy and tears. I dream that perhaps one day the bipedal hominids of this planet will actually awaken to the puppet master and clip the strings of ignorance and oppression that bind them to the mirage of their despair.
For now and for today, I quietly sit in a forgotten corner of a rolling Texas plain watching the clouds that drift overhead and envy them their freedom; trying to remember when watching the clouds was a moment of peaceful joy.