In the long lasting relationships there are always stories; these are the weavings of how we relate one to the other, of what we find precious and hold dear. It's been more than 20 years since this particular incident occurred and I never considered what the impact of it would be for myself and my beloved. Today, I am glad to have this particular memory to look back on because it reflects on who we are as a couple and the tough decisions we've had to make.
It was October then, too. Six months after our wedding and I was VERY pregnant with our first baby together. I was also craving ice cream, but not just any ice cream. It had to be Blue Bell Homemade Vanilla. (Still my all-time favorite!) The Dane and I had walked the ½ block down the road to the corner convenience store and on our way in, we heard kitten noises. We looked around, but couldn't locate the source –and I was worried, this wasn't just an "I want my momma" cry, this was something more. Unable to find where the noise was coming form, we went inside made our purchases and then returned to where we'd heard the sound.
It was twilight, and there wasn't very good lighting behind the store, but we were able to identify an area of the source; the dumpster. I was still worried and when we returned home, we asked the babysitter and my oldest child to take a flashlight and go see if they could find the distressed animal. 20 minutes later, she and my daughter came home with a tiny mess of a kitten; he was still yowling, but purring simultaneously. To our horror and shock, someone had wrapped this furry baby in duct tape and then attempted to set fire to him. His whiskers were singed, the tip of one ear was scorched, blistered and hairless, and his paws were a mess from where he'd tried to escape from both the dumpster and the tape.
With baby oil and scissors, we managed to get the tape off of him, and with cotton swabs and baby shampoo, we were able to get all the crud off of his coat. He was a green-eyed beautiful long-haired tri-colored tabby patched male, with fur so long and fluffy that I named him "Cloud." His purrs were tremendous and his appetite more so. He ate the mix of canned and dry kitten food with relish and abandon, and promptly fell asleep with one paw in the food dish. We tucked him into a basket with clean towels and newspaper; sure that the morning would bring us a better chance to know our newest adoptee. After the rush of getting everyone off to school and work, the housekeeper and I discovered that Cloud had made a mess in his basket. I couldn't clean him up as I was home on bed rest from having earlier premature delivery symptoms, so the housekeeper scrubbed the poop mess off the kitten and we layered newspaper in the bathtub of the unused guest bathroom for him. We figured that he'd just had an upset tummy from eating garbage and a week or so of eating kitten chow would 'put him to rights' – either way, he was much too young for worming meds.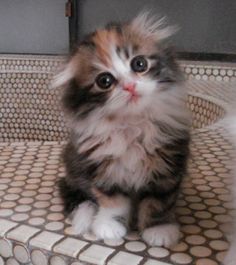 I decided that Cloud needed a toy and went looking for something suitable for our tiny furry baby. All I could find was an oversized marble, but when I put it in the bathtub with Cloud, he pounced in absolute joy and abandon. Chasing and batting the marble was the thrill of his life, that is until his bowels decided that the extra movement was a signal to let go and he pooped all over the tub again. I heard him protesting loudly, Cloud did not like 'dirty' and his tub was 'dirty.'
Sensing we might have a bit of a time with his bowel problem, I came up with a solution. Line the tub with paper, give him a potty box with newspaper and then plug the drain so his marble toy had free rein. For the better part of two weeks this was Cloud's world; until anyone came into the bathroom, that is. Cloud preferred to be held and loved. He was happiest cuddled up under a chin purring for all he was worth, kneading the chest of the lucky person holding him.
At the end of three weeks, Cloud's stools were still runny and now beginning to show signs of blood. He wasn't weak, but I was worried and my beloved husband made a vet appointment for him. I wasn't prepared for the phone call I received later that day; it was my husband, and he could barely talk. "Honey?" I asked, "What's up? What's wrong?" I heard him try to catch his breath and then I heard a choked sob. "Babe," he replied, "Are you in bed or sitting in the living room?" I was propped up in the bedroom crocheting a toy for Cloud, and I told him. "Honey, put it down for a moment. Cloud was terminal."
I couldn't believe what I was hearing. My beloved further explained, "Cloud's mother must have been seriously infested with worms and she passed the infection on to her babies. The reason that Cloud didn't get any better despite our care is that the infestation was so bad he had lost about 1/3rd of his intestines. The vet was surprised that he was so sweet natured as he had to be in serious pain. There was no saving him, honey. I asked for him to be put to sleep…and he passed in my arms." There was a silence and then a sob.
I was crying, too. We'd tried to do right and take an abused animal from a nightmare existence, only to have an inevitable Death take him from us. It was also the first time that we would rescue an animal together. We've rescued animals and taken in plenty of strays since then, but no one and nothing compares to Cloud. People talk about the Rainbow Bridge and the afterlife. For me, I hope that on that big ol' porch swing in the Hereafter waiting for me and my beloved, there's a space between us – for Cloud.