Some time back I wrote this piece while 'learning' about blogging and the fact that the Evil Day Job was a soul-killer. There are so many other ways for us to 'lose our way' and I was awakened this morning with the inspiration that today, Veteran's Day, of all days, was a perfect gateway to re-blog what I'd written earlier. The memory this brings forward still shakes/stuns my soul; never have I just suddenly been brought to tears by another's plight so nakedly shown before me. The plight of America's veterans (and I include myself in that category) is an ugly gaping, festering wound within our society. Not unlike the metaphor, if attended to properly that wound may leave a scar but the patient is still intact and functional. If allowed to fester without proper attention, it can become a deadly infection that can kill and or spread disease to another.  We were once admonished by those older and wiser than ourselves that we are "Our Brother's Keeper."  Let us not forget.
*************************************************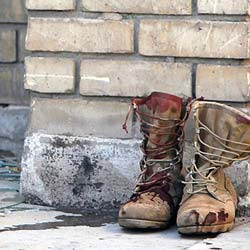 He sat there on a milk crate, bundled up against the north wind on a street corner in the bright winter sunshine of a Texas February noon. At his feet was his obviously beloved Golden Retriever; the animal nestled as close to his master as he could sit, furry face turned up to watch every move, every breath.  In the hands of this man was a sign that went straight into my consciousness; a cannon blast of lettering that overwhelmed me and sank my gut with the wave of helpless compassion it generated.  "Homeless With Cancer – Anything Helps."  One look at the gaunt, unshaven face and you knew that this was not a ruse; this was a summary judgment against our current society and the safety net that no longer exists after 40 years of political decimation. Four decades of pathetic ennui and lack of political will to rise up against the selfish self-centeredness that gained a foothold in the cocaine inflamed 80's and continues today.
Look at the language we tolerate regarding the safety net against poverty in old age, Social Security. We allow the political language of the elitist rich who fling the term "entitlement" like it's something as filthy as rotted flesh. We allow terminology to become watered down; made politically correct because we lack the backbone to define reality in naked terms that would expose our collective shame.  We allow the repression of Puritanical ethos to defame the natural sexuality of each person within our society such that young children are encouraged to become Lolita's, but group shame descends upon the female that finds herself pregnant without the "blessing" of a life mate – male preferably.  There is no wholesale acceptance of the human condition in its beautiful and terrifying entirety in this country, save for the small pockets of free-thinkers who keep themselves anonymous for the sake of personal safety.  Those that made their forward-thinking and evolutionarily advanced beliefs public ages ago are being systematically decimated through government sponsored genocide.
The mentally ill in this country have had to learn to navigate the fierce jungle of intolerance to their many and varied conditions by adapting "societal masks" of acceptable terms. If your psyche is tormented by the roller coaster of a bi-polar disorder, you must swiftly amend your statement to include whatever treatment you're trying so that you "fit in" to the landscape you find yourself traversing. If you or your body or your lifestyle doesn't meet the expected norms, you are expected to provide a reasonable excuse as to why not. Further, if the gnawing beast of depression haunts you, rather than address the muted anger/rage that creates the problem, your employer would rather you pop a pill and get back to work.
Once upon a time, there was an uprising and a beautiful cry of "I'm not here to meet your expectations."  There was an acceptance that what once was, was broken and needed to be replaced because it was too broken to fix.  Somewhere before the overhaul could get more than a foothold, an evil reptilian presence inserted itself and self-delusion replaced self-examination.  I'd like to think that it's not too late. It's not too late to take that young, very ill gentleman off the street corner – along with his dog and offer him treatment or at the least palliative care until his days upon this Earth are no more.  I'd like to think that we can re-open the mental institutions and half-way houses and encourage all who need the gentle touch of a listening soul, as well as those who need a structured oasis from the everyday Chaos the rest of us navigate, to walk through the gates.
I almost despair that we've forgotten how to care for our elderly, that we've adopted a learned indifference to the cries of the very young, and plaint that those from pre-teen to college graduate have no sense of responsibility or values. We've forgotten the rich values of community in favor of selfish ends. Young children crave the gentle attentions of family and elders who teach so much more than just behavioral bounds, but are isolated within artificial crèches of commercial daycare.  The length of marriages is rapidly dwindling because there are no committed couples willing to share the wisdom of compromise woven with tolerance and compassion that creates the reality of long-lasting relationships.  The elderly are expected to live out their waning days in the sad relative isolation of retirement communities.
A healthy neighborhood should be a layered structure of ages and backgrounds that weaves itself together in acceptable societal tension; young and old, married and single, teens and younger kids, all claiming with a sense of pride in belonging. Those that experience tragedy, illness, or misfortune would find a willing hand to help, wisdom to find their way out, many hands making light work of the heavy realities that Life can hand out. Education of the young and old happens best in an integrated community, because ignorance and fear are beasts best slain by truth and trust: the hands of wisdom crafting a vision of the future seen by younger eyes but guided by elder hearts.
We've forgotten it seems that we are our brother's keeper. We are our sister's handmaiden, our mother's steady guide when her steps falter, our father's eyes when the eyesight begins to dim. We are the gentle support of a toddler learning to walk, we are the ears of the deaf, and we are the listening heart of those who struggle emotionally.
Once pointed out, a problem should become the burden of the society it affects; a burden that can then transform into a solution that becomes second nature by those who adopt the change within their community.  This isn't an impossible dream; this is a possible reality for those of us with the intestinal fortitude to say "Why not?" If change only occurs because the status quo is so painful that we cannot maintain it, then why haven't we changed?
We are told by many different tales of ancient wisdom that our lives are Gifts of the Eternal, what we do with them is our gift back. Why are we so insistent on trashing this precious gift by not doing all we can to make another's  life better? Why are we turning a deaf ear on our own? Further, will someone with a bit more resources that I, please reach out to my brother and his dog on that cold street corner? I'd be so appreciative to know that he was able to go Home in peace.