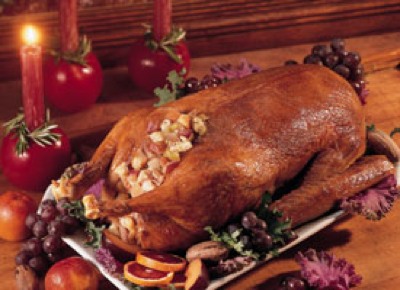 OK…Time to "come out of the pantry" so to speak. While I am NOT any type of Domestic Goddess by any stretch of the imagination, I am the Goddess of Comfort Food. The kind that has folks hanging around our campsite for a bite of whatever I'm whipping up to feed the Horde of the Half-NeKkid when they return from wheedling vendors, fly-by huggings of folks that they haven't seen for moons, and just to keep the hands busy because dammit, I forgot my damned crochet at home and my freakin' brain is wound up tighter than a virgin's knees at Beltane!
I suppose I was sorta shy to do more than admit to it, but after some reflection on the whole thing AND the fact that my far-flung offspring have been calling me for recipes and "how-to" tips, I'm gonna OWN IT, DAMMIT.
I COOK…and I cook DAMN WELL. Ya' want Roast Goose with Apple-Walnut stuffing and savory gravy? Fine – get your ass out of the kitchen unless you're willing to help under my direction (that means you can take orders and follow directions EXACTLY) and be prepared to worship me properly when I'm done. Unfamiliar with a spice? Ask me – I can probably tell you what it is, what it's used for, any alternative you can use if you're out, and the best varietal to purchase when shopping.
Other people count their wealth with CD collections, gold, silver, stocks, mutual funds and Universal Life insurance policies. I take stock in a well-stocked spice cabinet, pantry, fridge and freezer. My chef's knives are worth more than your IPhone, and I lust for cookware and stoneware like other women lust after designer pumps! I have a choice of an alabaster slab, a hard rock maple cutting board, and a beautiful block of crafted glass with which to begin,  to fashion and perfect my culinary creations upon.
Recently, I have discovered and am returning to "the joy of aprons" after one too many mishaps of braising the boobs with hot broth. I tend to prefer cheesecloth dishtowels, and hand-crochet dish cloths to hand wash my more prized containers, bowls, and cookware. All of this descriptive phrasing leads me to another eye-opening personal observation: some folks paint literary masterpieces with words, I prefer to create 7 course meals complete with finger dishes of lemon-scented water adjectives and palette cleansers of minty metaphors.
This alone has enlightened me as to why there are sudden long stretches between my writing. I've mastered the art of feasting upon creativity to create gluttonous wonders, but I'm still in the apprentice stage of crafting the thin, meager portions of famine sentences and the simplicity of a daily meal of prose. Further – this is OK, because a well-rounded human being needs to learn throughout the lifetime granted in order to keep itself viable as a contributing member of humanity. There is no final graduation ceremony until your loved ones bid you goodbye until your next incarnation.
Additionally, a well-seasoned meal and a well written composition should have all the flavors of life incorporated from bitter tears to sweet laughter and all the rich fullness of existence layered in-between. In truth, we can neither write nor cook a meal without the influence of others. Whether they are in our heads, hearts or by our side, the presence of those who inspire us are as much a needed ingredient as the entrée to a dinner or the healthy plot bunny who leads us a wild chase in the merry meadow of metaphor.
We desperately need all the shades and shadows of humor and pathos, we need to both stand alone and be woven together as the tapestry we are; and we dare not deny ourselves the basic nature of identity, either. Looking at the whole tableau and table, there is no place nor space for judgment, just simple acceptance of what is placed before us.
Now, all that being said, shall I put the kettle on?